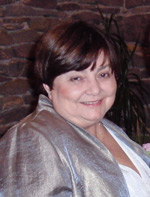 Alexandra (Alex) Goldwater has been a practicing psychologist for 30 years. She has maintained a clinical practice focusing on psychotherapy for children and adults, cognitive and educational assessment, and consultation to school districts, residential institutions, attorneys, and courts.
She is a Pennsylvania Licensed Psychologist, Certified School Psychologist, and is a member of the National Register of Health Care Providers in Psychology. She earned her BA from the University of Rochester, her MS from Bucknell University, and her Doctorate form Temple University. She has been involved in training school psychologists, has worked for the elimination of corporal punishment in Pennsylvania schools, has conducted workshops on positive discipline , has testified in Due Process Hearings, and has been instrumental in changing the application of special education law in Pennsylvania.
Alex applies an eclectic theoretical orientation to psychotherapy, using psychodynamic, cognitive, and behavioral frameworks. Within these frameworks, she uses play therapy, EMDR, hypnosis, relaxation, and other techniques to diagnose and treat a variety of childhood and adult disorders. Alex specializes in helping individuals through stressful life situations. She specializes in adult and child assessments (bilingual assessments also) to meet individual needs.
Currently, she consults as a bilingual psychologist to local school districts and private schools, performing bilingual psycho-educational evaluations. She has consulted regarding developmental disabilities to various institutions.
Her research interests have ranged from post traumatic stress disorder symptoms as a result of natural disasters (hurricanes, accidents) to examining the relationship between second language oral fluency and academic achievement.
---