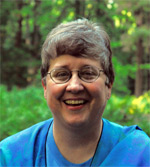 Dr. Ginny Sutton is a Pennsylvania licensed and school certified psychologist who received her masters in social work at the University of Michigan and her doctorate in school psychology at the University of Pennsylvania. Dr. Sutton holds certification as a Master Teacher in Orton-Gillingham Multisensory Reading Instruction. She also began many years ago studying American Sign Language and is continuing now in order to provide more comprehensive counseling and evaluation services for children who are deaf and hard of hearing. She serves as a community advisor on DeafCAN!, the Deaf Community Action Network, a Deaf social service outreach serving this region. The Pennsylvania Department of Human Services, through the auspices of the Chester County Department of Mental Health has credentialed her to provide such services to area families.
For over ten years, Dr. Sutton worked in Ohio. She coordinated children's programs within the departments of rehabilitation services and mental health. Later, Dr. Sutton served as statewide coordinator for the six state departments serving children, as well as the Governor's office, to ensure services to children in the most complex cases.
In 1997, Dr. Sutton began work with West Chester Area School District. Over the years, she served at all academic levels, evaluating and counseling students. She has maintained a specialty with children identified with Anxiety Disorders and with Autism Spectrum Disorders, particularly Asperger's Disorder. Now in private practice, Dr. Sutton works with families, schools, advocates, attorneys, and other child service providers to complete independent, comprehensive assessments of student's educational needs, culminating with recommendations for appropriate services. To continue to further her skills, she attends regularly the National Autism Conference at Penn State University and the Special Education Law Conference at Lehigh University, as well as other regional training opportunities. In addition to Dr. Sutton's private practice, she teaches graduate level classes in special education, learning and cognition, and educational research at Cabrini College. In fact, Dr. Sutton was selected for the 2010 Award of Honor as distinguished adjunct professor, the first teacher identified as such in the college's 21 year graduate school history.
---